The Literary Heroine Blog Event at
Accordion to Kellie
!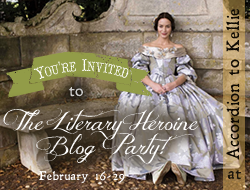 1: Introduce yourself! Divulge your life's vision, likes, dislikes, aspirations, or something completely random!
Something completely random? That won't be hard. Randomness is a part of my character. I do not say that it is a vice, or a virtue, I merely say it is a part of my character. *snaps out of Rigaud mood*
Introduce myself? My name is Maria Elisabeth and my age - well, with three (I mean two) younger sisters ( almost) grown up your ladyship can hardly expect me to own to it. As you might have seen, I quote everything and anything whenever I possibly can. I love writing and have a very ahem! stubborn inner editor. I have made a pact with myself to click the 'send' button the minute an email or a post is typed up, or I would be at it, changing a word, frowning darkly at the emoticons or taking out an awkward sentence. In short, there would be no blog post. But when it is confronted with a piece of my own fiction-writing, it falls down and plays dead. Odd, that. I love music and, like Emma Woodhouse, hardly ever practice. In short, I am an incurable romantic, with a crazy sense of humor, trying to serve God on this journey called life.
What, to you, forms the essence of a true heroine?
Strong faith, a sense of duty and honor, plenty of personality quirks, something for the reader to relate to, and gorgeous dresses don't hurt either!
Share (up to) four heroines of literature that you most admire and relate to.
Esther Summerson. She's sweet and kind, but can stand up for what's right and gives herself a hearty scolding when she's not being what she should be. I try to be more like her.
Amy March. I know many people don't like Amy, I can relate to her very well. I love drawing, would be delighted to go to Europe and can thoroughly sympathize with Amy's desire to be a true lady.
Marguerite Blakeney. Marguerite and I are so similar it's scary. My looks are almost like her: (this is the one spot where you're supposed to ignore the movie, please!) tall, golden glory of hair with tints of auburn, blue eyes..... Like Marguerite, I can be amply sarcastic, even witty, and occaisonally come up with a brilliant comment, but when I'm actually in danger you can count on me to do somethign impulsive that really shouldn't be done.
Rilla Blythe. Rilla is often ignored for her mother Anne Shirley, but she is very likeable in her own right and very like me too.
Five of your favorite historical novels?
El Dorado, Persuasion, Little Dorrit, The Spanish Brothers, I Will Maintain,
Out of those five books who is your favorite main character and why?
Yes, yes, I am very predictable. You know the answer already. :P
Out of those five books who is your favorite secondary character and why?
Let me see. Those books have absolutely amazing main characters, but not much in the way of secondary characters. I think I will have to be predictable again, and choose Lord Antony Dewhurst from El Dorado
If you were to plan out your dream vacation, where would you travel to - and what would you plan to do there?
I'd go to Europe - France particularly - and I'd write novels on site. Yes, I mean on site. If I mention an address or a landmark I will be sitting right by the door with my laptop, while everyone else thinks I'm crazy. I'd also go to plenty of museums and maybe do a little shopping - did anyone say unlimited funds? Say you did, please!
What is your favorite time period and culture to read about?
Baroque/Georgian/Regency/Victorian somewhere in Europe, preferably England or France.
You have been invited to perform at the local charity concert. Singing, comedy, recitation - what is your act comprised of?
Singing, of course.
If you were to attend a party where each guest was to portray a heroine of literature, who would you select to represent?
At the risk of being very predictable, I will say Marguerite Blakeney. Just imagine the dress!
What are your sentiments on the subject of chocolate?
Did someone say chocolate? Dark, please. :)
Favorite author(s)?
Jane Austen, Charles Dickens, Baroness Orczy, Marjorie Bowen, C.S. Lewis, Grace Irwin, G. A. Henty, Janette Oke, Allen French, Elizabeth George Speare, L.M. Montgomery, and Rachel Heffington.
Besides essentials, what would you take on a visiting voyage to a foreign land?
A laptop, books, and chocolate and - you did say unlimited funds, didn't you? - some good friends, bloggy and not.
In which century were most of the books you read written?
The nineteenth, with a large chunk from the twentieth.
In your opinion, the ultimate hero in literature is…
Sir Percy Blakeney. Yes, I am predictable.
Describe your ideal dwelling place.
I'd like a mansion (think Pemberley-style) with a very pretty park and gardens and when I got tired of that I'd move into a cottage, Thomas Kinkade style.
Sum up your fashion style in five words.
Feminine/frilly/imaginative/vintage-inspired/odd
Have you ever wanted to change a character's name?
Oooh, yes. I have settled opinions on names; hardly ever will I like a name just because a likeable character has it, and when a likeable character has an unlikeable name............
In your opinion, the most dastardly villain of all literature is...
Perhaps someone downright creepy, like Rigaud, or someone quiet, but horribly clever like Chauvelin, or someone you and the heroine nearly break their hearts over, like Willougby.
Three favorite Non-fiction books?
The Bible, Don't Waste Your Life, and Do Hard Things
Your duties met for the day, how would you choose to spend a carefree summer afternoon?
Sitting under a tree, with an amazing book and chocolate.
Create a verbal sketch of your dream hat - in such a way as will best portray your true character.
If you could tell me what my true character is, I could put it in a hat! As it is, I don't know.
Share the most significant event(s) that have marked your life in the past year.
Other than getting this-here bloggie, nothing that I'd like to mention.
Share the Bible passage(s) that have been most inspiring to you recently.
Though you have not seen him, you love him; and even though you do not see him now, you believe in him and are filled with an inexpressible and glorious joy, for you are receiving the end result of your faith, the salvation of your souls

. -1 Peter 1: 8,9 (NIV) I learnt this one in the

1 Peter Project

, an excellent memorization challenge!

The Word became flesh and made his dwelling among us. We have seen his glory, the glory of the one and only Son, who came from the Father, full of grace and truth. - John 1:14 (NIV)

I have told you these things, so that in me you may have peace. In this world you will have trouble. But take heart! I have overcome the world. - John 16:33 (NIV)