Today is the birthday of Anne Elliot, the heroine from Persuasion. As Miss Laurie from
Old-Fashioned Charm
pointed out, today she would be 224 years old!
ELLIOT OF KELLYNCH HALL
'Walter Elliot, born March 1, 1760, married, July 15, 1784, Elizabeth, daughter of James Stevenson, Esq. of South Park, in the county of Gloucester, by which lady (who died 1800) he has issue Elizabeth, born June 1, 1785; Anne, born August 9, 1787; a still-born son, November 5, 1789; Mary, born November 20, 1791.'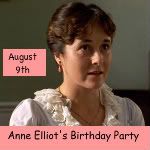 Miss Laurie is having a day long birthday pary for Anne! Go to
Old-Fashioned Charm
to take a Persuasion quiz, vote on what birthday present you'd like to give Anne, and more!
Love,